Comparing Exchange Plans: Bronze, Silver, Gold, Platinum ObamaCare Delays 2015 Enrollment Finally an Easy Way to Apply for ObamaCare 50 State Premium Rates: Affordable Care Act ObamaCare 101 Sign up for ObamaCare: ACA Enrollment and Start Dates Is In Vitro Covered by ObamaCare? BlueCard Included in ObamaCare Plans Anthem BlueCard is Back, Offers Nationwide Coverage Obamacare Coops, Almost Half Shut Down Silver Healthcare Exchange Plan Overview Platinum Healthcare Exchange Plan Details Gold Healthcare Exchange Plan Outline of Coverage Bronze Healthcare Exchange Plan Explained ObamaCare Multistate Plans VS PPOs Affordable Care Act Multi-State Plans HSA Contribution Limits 2015 Affordable Care Act: HSAs Here to Stay? Obamacare Tax Season Special Enrollment Period Options if you Missed Obamacare 2/15 Deadline Last Week to Enroll in Health Insurance for All of 2015! Anthem Cyber Attack: Affects Current & Former Clients Cedars-Sinai Joins Blue Shield CA Network What Will My Obamacare Penalty Be? Anthem CA Extends Off-Exchange Deadline Until 12/31 Covered CA Extends Deadline for Jan 1 Health Plans Enroll today! First Day of Health Insurance Open Enrollment Obamacare Subsidies: Underestimated Income? What You Owe Back ObamaCare FAQs for Young Adults Under 26 Cedars-Sinai ObamaCare Plans Affordable Care Act: Penalties for the Uninsured How to Avoid Penalties Under ObamaCare ObamaCare Health Plans: Am I Covered When I Travel? Healthcare Exchange Cost-Sharing Subsidies: What You Need to Know Health Care Exchange Premium Subsidies: Do You Qualify? Feds Say: Consumers Must Renew ObamaCare Plans ACA: Young People Should You Opt for a Penalty? ACA Subsidies: Think You Qualify? Think Again Indiana Special Enrollment for Same-Sex Spouses Do You Qualify for 2015 ObamaCare Subsidies? Open Enrollment Nov 15th: Only Time to Apply for Health Plans Unhappy with Current Health Plan? You Can Switch on Nov 15! What's Off-Exchange Health Insurance, and Do I Want It? California ACA Plans Require 'Identity Proofing' ObamaCare: Open Enrollment vs Special Enrollment CA Special Enrollment Period for Individuals Covered by COBRA Anthem CA Off-Exchange Extension ObamaCare CA: Online App Extension Californian's ObamaCare Jan Pay Deadline Extended ObamaCare Fed Exchange Payment Extension Final Days of Tonik Health Plans: CO, GA, NV ObamaCare: Catastrophic Plan Best for Young People? Colorado ObamaCare Plan Extension Covered CA Small Business Site Not Working, Agents Help HMO vs EPO vs PPO Obamacare Networks Explained ACA: Maryland Small Business Delay, Brokers Step in to Enroll ACA: Fed SHOP Delay, Small Businesses Enroll Through Agents Anthem of Indiana Extends Renewals Till Dec 15 Fed's ACA Website Will Not Be Fixed by Dec 1st, CMS Says Part-Time Employees Better or Worse Off With ACA Plans? ObamaCare: Federal Enrollment Extended Till Dec 23rd Medicare Planning: 6 Things All Medicare-Eligibles Should Do Today Maryland Extends ACA Enrollment ACA: California Rejects Obama's Offer to Extend Plans Oregon ACA Enrollment Date 11 Days Earlier Than Fed's Anthem CA Only ACA Provider for UCLA Med Center Cedars-Sinai Only Offered on 2 Health Net ACA Plans Covered Ca Enrollment To Shut Down 4 Easy Steps to Get Covered Under ObamaCare ObamaCare: How Will Less Doctors Help More Patients? Affordable Care Act and Mental Health Coverage ObamaCare DC Only 5 Enrolled in Health Plans ObamaCare: What Happens if My Plan is Cancelled? Do you Live in one of the 24 States Not Expanding Medicaid? Affordable Care Act: No Smoking Penalty in Ca? Affordable Care Act: WA 55k Enroll ObamaCare: States Unable to Verify Subsidies ACA: 2.6 Mil Californian's Eligible for Subsidies CA: Alameda Alliance for Health Removed from Exchange Affordable Care Act Deadline Extended ObamaCare Penalty: $95 or $3,000? Non-ACA plans for Anthem CO, GA, NV, VA: Enroll Til Nov 15th ACA: Anthem Connecticut Grandfathered Plans Cancelled Washington Healthplanfinder Under-Quoted Over 8,000 Applicants Fed's Health Website Under-Quoting ACA Plan Rates Anthem BCBS of Kentucky Announce Doctor/Hospital Networks ACA Subsidies: Determined by Projected 2014 Income? Wisconsin ACA Premiums West Virginia Exchange Rates Tennessee's ObamaCare Premiums South Dakota's ObamaCare Exchange Rates Texas ObamaCare Exchange Rates Wyoming ACA Exchange Rates South Dakota's ObamaCare Exchange Rates South Carolina's ACA Premium Rates Exchanges Don't List Doctors and Hospitals How to Select an Agent on Healthcare.gov Pennsylvania ObamaCare Exchange Premiums Oklahoma Affordable Care Act Rates ObamaCare: Louisiana Exchange Pricing
The Affordable Care Act, commonly known as ObamaCare, has four new health insurance plans which set the standard of care, named Bronze Plan, Silver Plan, Gold Plan, and Platinum Plan*. All plans must offer the same ObamaCare essential benefits, however individual providers and states may offer extended or additional benefits. This page is dedicated to comparing the four plans.
*There is also ObamaCare catastrophic coverage for those who qualify.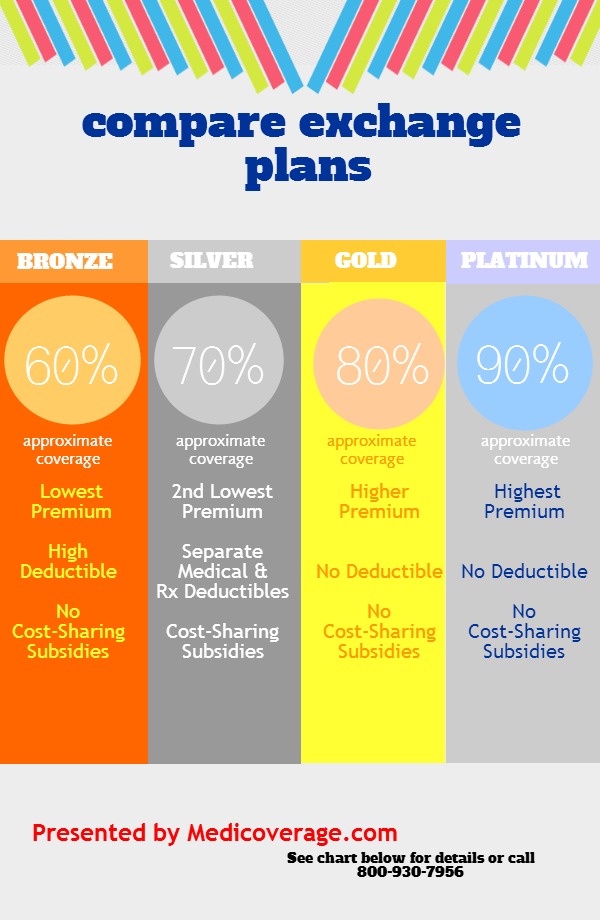 Plan Basics
The below information is for families and individuals. Click here for information about ObamaCare Small Business Owners. This information does not include the two types of federal subsidies: premiums and cost-sharing, click here if you want to learn Are You Qualified for Premium Subsidies? or if interested to learn, Are You Qualified for Cost-Sharing Subsidies?
| | | | | |
| --- | --- | --- | --- | --- |
| Benefits** | Bronze | Silver | Gold | Platinum |
| Deductible | $6,000 Med/ $500 Rx | $2,250 Med/$250 Rx | $0 | $0 |
| Preventive | $0 | $0 | $0 | $0 |
| Doctor's Office Visits | $70 for first 3 | $45 | $35 | $20 |
| Specialist | $90 after deductible | $70 | $55 | $40 |
| Generic Rx | 100% per script up to $500 after deductible | $15 | $15 | $5 |
| Brand RX | 100% per script up to $500 after deductible | $50 after Rx deduct | $50 | $15 |
| Lab Testing | $40 | $35 | $35 | $20 |
| X-ray | 100% negotiated rate | $65 | $50 | $40 |
| Maternity | 100% of negotiated rate | 20% of negotiated rate, after deductible | $600 per day HMO***/20% PPO | $250 per day HMO***/10% |
| Out-patient Surgery | 100% of negotiated rate, after deductible | 20% of negotiated rate, after deductible | $600 HMO/20% PPO | $250 HMO/10% PPO |
| Hospital Stay | 100% negotiated rate, after deductible | 20% of negotiated rate, after deducible | $600 per day HMO***/20% PPO | $250 per day HMO***/10% |
| ER Visit | 100% of negotiated rate | $250 after deductible | $250 | $150 |
| Urgent Care | $120 after deductible | $90 | $60 | $40 |
| Out-of-Pocket Max | $6,500/$13,000 (ind/fam) | $6,250/$12,500 (ind/fam) | $6,200/$12,400 (ind/fam) | $4,000/$8,000 (ind/fam) |
| Details | Bronze Plan | Silver Plan | Gold Plan | Platinum Plan |
***Up to 5 days in the hospital
**Because California has standardized its health plans these are the costs associated with them. Each state will vary. Call 800-930-7956 or click here to get an exchange quote in your state.
Which is the right Healthcare Exchange plan for you?
To select the right health plan, you should ask yourself 5 key questions:
1) Do you qualify for federal cost-sharing subsidies and/or only federal premium subsidies?
2) What will your actual monthly premium cost?
3) What are the finalized coverage details of each plan?
4) What is the right amount of coverage for your lifestyle and medical history?
5) What is the plan's network of doctors and hospitals?
ACA Application
There is now a website where you can get your paper application and access an agents help with subsidies and picking a plan. Here's what you do:
1) Go to Healthapplication.com
2) Fill out the application
3) Print and then fax, scan and email, or mail your application to the contact information on the app*
4) An agent will contact you to inform you of your subsidy status and explain the new plans
*Make sure to send your application in as soon as possible to ensure the earliest possible start date.
Call the number above or contact a Medicoverage agent with any questions.
By Katie Banks+
0 Recent Comments