Bronze Healthcare Exchange Plan Explained What Is the Bronze Plan?
The Patient Protection and Affordable Care Act, AKA Obamacare, offers 4 insurance plans called Bronze, Silver, Gold, and Platinum. In a 2013 survey only 4% of Americans understood the difference between the plans, one of the most important facts of the new plan is all plans must cover the same Healthcare Exchange essential benefits, however each state and/or provider may offer additional or extended benefits. The Bronze Plan is set up to have the lowest monthly premium of the 4 new categories of plans*, with the highest out-of-pocket costs (combination of deductible, copayment, and coinsurance).
*There is also Healthcare Exchange Catastrophic coverage, available to those who qualify.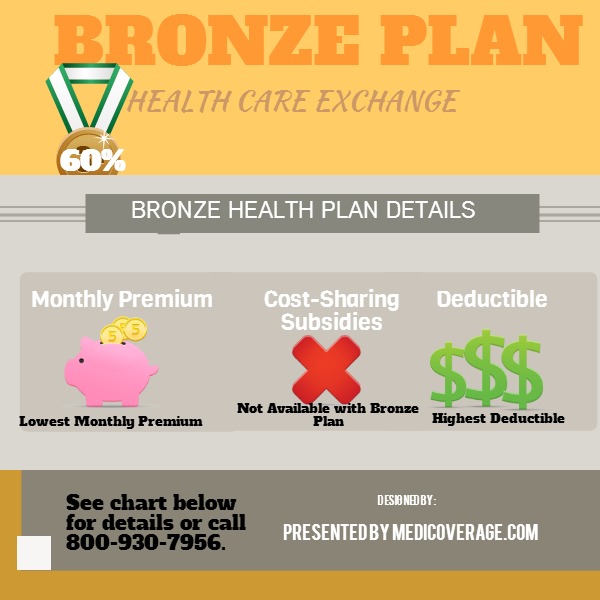 How do Bronze Plans work?
The following information below is for individual and family members. Click here to learn about how the Bronze plan works for Small Business owners under ObamaCare.
| | |
| --- | --- |
| Benefits | Bronze Health Plan* |
| Deductible | $5,000 Med/Rx |
| Preventive | $0 |
| Doctor's Office Visits | $60 per first 3 |
| Specialist | $70 *after deduct |
| Generic Rx | $15 *after deduct |
| Brand RX | $50 *after deductible |
| Lab Testing | 30% *after deduct |
| X-ray | 30% *after deduct |
| Maternity | 30% *after deduct |
| Out-patient Surgery | 30% *after deduct |
| Hospital Stay | 30% *after deduct |
| ER Visit | $300 *after deduct |
| Urgent Care | $120 *after deduct |
| Out-of-Pocket Max | $6,350/$12,700 (ind/fam) |
*These rates are based on California figures. To learn which plans are available in your state get an exchange quote or call 800-930-7956.
Is There Only One Bronze Deductible?
No, Bronze offers different plans with high and low deductibles (the amount you pay before your insurance kicks in) and different amounts of co-insurance (% you pay after deductible is satisfied, and before out-of-pocket max is met). Remember, regardless of the deductible, all Bronze plans will ultimately equal that 60/40 split.
Seniors and the Healthcare Exchange
Just a reminder that people over 65 do not have the same options. Click here to learn more about Seniors and the Health Care Exchange.
How Does the Bronze Health Plan Compare to the Other New Plans?
Basically Bronze will cost you the least each month but you will pay the most in shared costs should you get injured. Click here to compare Bronze Plan, Silver Plan, Gold Plan, and the Platinum Plan side-by-side.
For any questions or assistance in applying (enrollment for 2015 from November 15, 2014 to February 15, 2015), please contact Medicoverage. If you're ready to apply click here to get your Exchange application.