ObamaCare 101
We get a lot of questions about how the Affordable Care Act, aka ObamaCare, affects people like you. So, we figured we'd explain a few of the key details of the new law. While this is a quick overview we have included links to allow you get more detailed information on each topic below. The information below is geared for individuals and families. If you have a small business you will want to visit our Small Business ObamaCare page.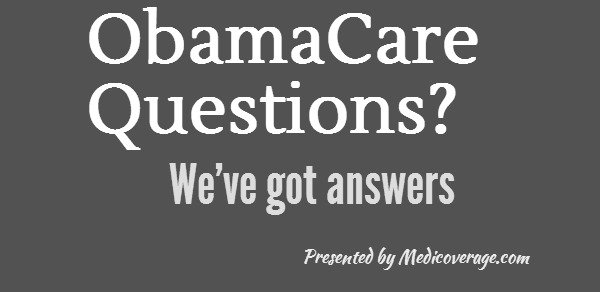 What is ObamaCare?
ObamaCare is the nickname for The Patient Protection and Affordable Care Act that was passed in March 2010. Most people just call the act the ACA, for short. This law overhauls how we buy health insurance, who can be covered and what benefits it must cover. Under the law, most Americans are required to have health coverage and will pay a tax penalty if they choose to go without insurance. Also the government is offering subsides to help lower income people pay for these plans. Finally, under ObamaCare no one can be turned down for health insurance regardless of previous health history.
What are the New ACA Plans?
There are 4 types of health plans for individuals and families to chose from. The plans are called Bronze, Silver, Gold, and Platinum and you can compare the 4 Affordable Care Act's plans here. Bronze is the least expensive but requires more upfront cost sharing than the other plans. The Platinum plan is the most expensive but requires less of your money up-front should you get injured. There is a low-cost ObamaCare catastrophic plan available to some young people and/or those with financial hardship, in addition to the four "Metal" plans listed above.
What are the Exchanges?
Since lower-income people may get a subsidy to help pay for the above plans, each state is setting up an Exchange (or Marketplace) to purchase a plan with subsidies. Some states chose not to set up an exchange. So, those will be run by the federal government. If you do not think you will qualify for a subsidy you can purchase an off-Exchange plan to avoid extra paperwork and questions about your income. Agents, such as the team at Medicoverage, will be able to sell plans both on and out of the exchange at no charge to customers.
Individual Mandate: What Does That Mean?
In the plainest language possible, it just means that the majority of Americans are required to have health insurance. There are a few exemptions like financial hardship or religious conviction. If you decide to forego insurance, there is an ACA penalty. This penalty is up to 2.5% of your income in 2016 and should stay the same through 2017.
What Subsidies are Available?
There are two types of subsidies available for those that qualify:
1) Premium Subsidies reduce the cost of your monthly insurance bill (which is called a Premium for some reason). People who make between 100% to 400% of the Federal Poverty Line (FPL) may qualify for this subsidy.
2) Cost-Sharing Subsidies help pay additional costs once you are insured such as deductibles, copays, and coinsurance. People who may qualify for this coverage fall between 100% to 250% of the FPL.
Some low income Americans will be able to qualify for both subsidies while individuals making roughly over $46,000 a year may not qualify for either.
When do I sign up?
For most Americans, you'll sign up during Open Enrollment: November 1st thru January 31st. The earliest plan coverage will begin is January 1st, but if you wait too long to sign up for an ACA your start date will be pushed back.. Some people might qualify for a Special Enrollment Period. Examples of a Special Enrollment Period are if you released from incarceration, lose your insurance, give birth or adopt a child, or get married.
We hope this has cleared up any of your basic questions about the Affordable Care Act, however if you have any further questions or would like to get a quote to see how much the new plan will cost, please call 800-930-7956 or contact Medicoverage.