Healthcare Exchange Cost-Sharing Subsidies: What You Need to Know
November 06, 2014
By Amy De Vore+
The Affordable Care Act, commonly known as ObamaCare, offers two types of subsidies to help reduce costs. The two types are: 1)Federal Premium Subsidies and 2) Federal Cost-Sharing Subsidies. This article is dedicated to Cost-Sharing Subsidies. To learn about the other form of subsidy, read Do I Qualify for Premium Subsidies?
What is Cost-Sharing?
Cost-sharing is what you pay for copayments (agreed upon dollar amount you pay to pay for a service or drug), coinsurance (% you pay for a service or drug), deductible (amount that you pay out of pocket before your insurance company pays toward your service), and out of pocket maximum. This does NOT include your monthly premium.
Will I Qualify for a Cost-Sharing Subsidy?
Cost-sharing subsidies (sometimes called cost-sharing reductions) are determined by your household income and the state you live in. If you live in of these gold colored states you may qualify for cost-sharing subsidies if your income falls within the perimeters of the chart below.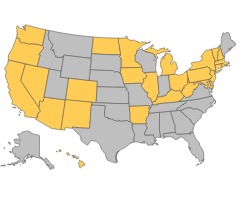 | | |
| --- | --- |
| Household Members | Income Range |
| 1 | $16,104 - $29,175 |
| 2 | $21,707 - $39,325 |
| 3 | $27,310 - $49,475 |
| 4 | $32,913 - $59,625 |
| 5 | $38,515 - $69,775 |
| 6 | $44,118 - $79,925 |
If you live in one of the below gold states, you may receive a cost-sharing subsidy if your income falls within the perimeters of the chart below.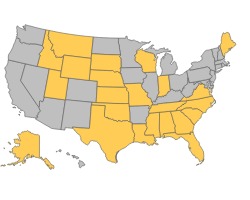 | | |
| --- | --- |
| Household Members | Income Range |
| 1 | $11,670 - $29,175 |
| 2 | $15,730 - $39,325 |
| 3 | $19,790 - $49,475 |
| 4 | $23,850 - $59,625 |
| 5 | $27,910 - $69,775 |
| 6 | $31,970 - $79,925 |
Which Exchange Plans Qualify for Reductions?
The Silver plan is the ONLY exchange plan that qualifies for cost-sharing subsidies.
How do the Cost-Sharing Subsidies Breakdown?
The Silver plan is set up so that 70% of medical costs are covered through the provider. With cost-sharing subsidies the amount listed below is what the provider and the government will approximately pay for your out-of-pocket health services:
If your individual income is up to $17,504*, the actual coverage of a Silver plan is up to 94%
If your individual income is $17,505 - $23,339, the actual coverage of a Silver plan is up to 87%
If your individual income is $23,340 - $29,175, the actual coverage of a Silver plan is up to 73%
*Check charts above to see which income figure would be the lowest your state allows for to qualify for cost-sharing subsidies. If you fall below this amount you may qualify for Medicaid.
The amount you have to pay with cost-sharing is anywhere from 6-27% of out of pocket costs rather than the normal 30%, if you didn't qualify for cost-sharing. Click here to a health exchange quote.
Article Updated 11/6/2014
Further Questions
If you have any further questions about cost-sharing and whether you qualify please contact Medicoverage. If you know you qualify and are ready to fill out an application go to Healthapplication.com.
The next open enrollment for new health coverage begins October 15, 2015. Applications must be submitted before December 7, 2015 to start a plan in 2016. If you are looking to get covered in 2015 you still have a few options. See link below:
Click here to learn how to get covered in 2015 if you missed the Obamacare 2/15 deadline.
Comments for Healthcare Exchange Cost-Sharing Subsidies: What You Need to Know
Click "Here" to leave a Comment
Our annual income is right around $30,000 and we live in Ohio. My husband has insurance through work which costs $120 a month for him and $800 a month for a family. We have a family of three. My daughter receives medicaid and my husband is getting insurance through his job. Would I be eligible for subsidies for myself? What I have read is that since the employer offered insurance is affordable for the employee no one in the family can receive subsidies.
MEDICOVERAGE AGENT RESPONSE
Tammy,
Thank you for your question. As far as we can tell, most people who are offered coverage through their spouse's plan are considered covered. However, every circumstance is different. We suggest that you call an agent at 800-930-7956 to learn more.
-Chris www.medicoverage.com
Premium subsidies can get resolved on the following year's tax forms, so if I largely over-estimate my income, I will get some back when I file the following year, right? Is the same true for cost subsidies, or are cost subsidies only given during enrollment?
MEDICOVERAGE AGENT RESPONSE
Francis,
Thank you for your questions. For your first question, yes, if you are enrolled in an exchange plan, over-estimated your income, and qualified for for more premium assistance than you received you would receive your additional tax credit at tax time. As far as we know, for cost-sharing subsidies you have to qualify and verify your income at the time of enrollment. We suggest to verify all your tax questions with your financial expert.
-Chris www.medicoverage.com
I am applying for the Silver 94%. I live in California in Santa Cruz County. I am interested in Health Net. I have a hard copy of the application and am faxing it in and mailing it in as well. The online application keeps crashing on me. How do I go about applying for the insurance? How do I know what the premium is?
MEDICOVERAGE AGENT RESPONSE
Pam,
Thank you for your question. We understand your frustration with the site's complications. We too are seeing long delays accessing the exchange site. Please give us a call at 800-930-7956 and we can help you
-Michelle at www.medicoverage.com
Why are co-pays available for the Silver and not the Bronze Plans?
MEDICOVERAGE AGENT RESPONSE
Frankie,
Thanks for your question. Co-pays are available for Bronze plans, but most services are covered after you meet your deductible.
-Eric from www.medicoverage.com
I enrolled in the silver94 plan along with federal subsidies. Our family was excepted! Printed out confirmation, silver94. Next I printed the enrollment summary which said silver70.
Why did this change?
MEDICOVERAGE AGENT RESPONSE
Steve,
Thanks so much for your question. You are the first person that we have heard from that has signed up for an ACA plan. Our understanding that things are pretty wonky right now on the state and federal exchange websites. This is why we are recommending that our clients wait for some of the technical issues to be resolved.
In your case we do not know why your confirmation has a different silver value. There could be a glitch in the system. We have also been told that some states are unable to process subsidies until later so this might explain it. If you are working with an agent, please contact them and they should be able to assist you and make sure you are on the correct plan.
-Michelle from Medicoverage.com
Example: A person with a subsidizded Standard Silver Plan tears an Achilles tendon playing basketball, admitted to a hospital resulting in a $35,000 hospital bill.
Example - Subsidized Cost Sharing: A person on the Silver Plan at 175 percent of the FPL has a $500 deductible, a MOOP limit of $2,250 and pays 13% of expenses
A hospital bill is $35,000 minus the $200 deductible = $34,800, 13% of expenses = $4,524. Since I have a MOOP limit of $2,250 my total cost including the individual deductible is $2,450. Plus a Yearly Premium of $2,400. Total cost- $4,650.
LEGEND:
D- Deductible
P - Premium
YP - Yearly Premium
MOOP Maximum out-of-pocket expense
FPL - Federal Poverty Level
As an individual earning $16,600 a year, why can I not enroll in Silver 94 instead of Silver 70?
MEDICOVERAGE AGENT RESPONSE
Kirsten,
Silver 94 is the plan that people who receive subsidies can purchase. Subsidies can depend on your age and region so it can vary. Additionally many states are not ready to include subsidies in their calculations for a few months -which could be the reason why you're not seeing your break.
Due to many of our clients being frustrated with the delays and glitches, such as the subsidies being figured out later and doctor/hospital finders currently unavailable in many states, we suggest you wait to enroll in a new ACA plan. Your coverage will not be delayed if you enroll in your ACA plan by December 15, 2013. Until then feel free to call us at 800-930-7956 to help you figure out how your subsidy would work.
-Eric at Medicoverage.com
So…I live in Southern California. I'll make about 15,000 this year. Will be about the same next year. I am looking at deductible and copay chart. How does the cost sharing subsidy help me pay these? Or does it? What happens in the doctor's office when they ask me for my copay amount? How much am I obligated for? Or what happens if they ask me for the rest of the bill because I may not have met my deductible for the year? How do they know what my deductible status is at that moment?
Thanks
Dennis
MEDICOVERAGE AGENT RESPONSE
Dennis,
Thank you so much for writing to us. With your approximate take home you would more than likely qualify for Medi-Cal. If your salary pushes you above the Medi-Cal eligibility you should qualify for cost-sharing subsidies to help with deductibles, coinsurance, and copays -basically to help when you seek medical care. As well as you should qualify for premium subsidies to help with your monthly costs. Call 800-930-7956 to find out exactly what you qualify for.
-Chris from Medicoverage.com
Hi,
I'm a young individual that made about $10k last year. What I'm worried about is the $2k medical deductible. Will the subsidy help me with the medical deductible or will it only help with regard to the cost of monthly premiums?
Thank You
MEDICOVERAGE AGENT RESPONSE
Steve,
Thank you so much for your comment. Since you made less than $11,490 you do not qualify for subsidies, however you may qualify for Medicaid -if your state expanded its coverage. If you had made between $11,490 and $28,725 you may qualify for both help with your premium and help with your deductible, as well as copays and coinsurance.
So if your income will go up this year you can lock in one of these new plans with possible assistance.
-Chris
For those above 250% of FPL who do not qualify for cost sharing subsidies, the actuarial level of the plan does not guarantee that they will pay exactly the percentage of health costs specified by the metal level plan they choose. But the cost sharing subsidies that are specified for those below 250% of FPL appear to require that the individual's plan (not only the broad range of all plans in that plan tier)must pay a specific percentage of medical costs for that individual.
Is that correct?

ObamaCare by State
Find the latest ACA news on your state here