Affordable Care Act: Penalties for the Uninsured
May 07, 2013
By Amy De Vore+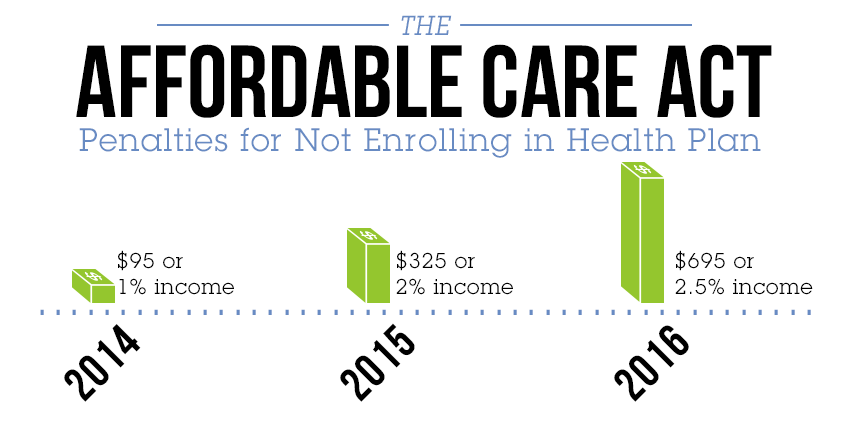 With the new Patient Protection and Affordable Care Act, AKA Healthcare Exchange, insurance is available to all Americans, however those that do not sign up for health insurance will be penalized.
How are penalties assessed?
With the Affordable Care Act penalties are assessed by the amount of months that a person is without health insurance. For instance, if you didn't have health insurance for three months out of twelve a prorated amount will be tacked on when you do your taxes.
How much will I be penalized for not purchasing health insurance after the Affordable Care Act is in effect?
There is a one-time penalty per year of $95 or 1% of your income in 2014, whichever is higher. For example if your individual income was $45,000, your penalty would be $450 for the year. There is also a penalty for each child that is not covered at $47.50 per child, for an out of pocket max for family at $285. To learn what your specific monthly premium under the Affordable Care Act would be call 800.930.7956.
If I am in between jobs will I have to pay a penalty for not having health insurance?
No. If you are between jobs and without insurance you will not owe a penalty for the first three months.
Are there other ways to be exempt from paying for health insurance under ObamaCare?
Yes. Besides being out of work for a short period of time there are also:
• Being below the poverty line, low enough that you don't file a tax return
• Against your religious beliefs
• In jail or prison
• A member of an Indian tribe
• An undocumented immigrant
• Minimum coverage would exceed 8% of your income
Update: If you enroll by March 31, 2014 you not be charged a penalty.
UPDATE 11/27/13: For an easy way to fill out your ObamaCare application go to Healthapplication.com. Remember to fill it out and send it in as soon as possible to ensure the earliest enrollment date.
For any further questions call 800.930.7956 or contact Medicoverage about ObamaCare.
Open enrollment for new health coverage begins Nov 15, 2014. Applications must be submitted before Feb 15,2015.
Apply for an ACA Plan Here
DAYS LEFT UNTIL OPEN ENROLLMENT BEGINS.
Apply Now
Comments for Affordable Care Act: Penalties for the Uninsured
By Charles on June 11, 2013
It's a TAX not a penalty!

Leave a comment