Platinum Healthcare Exchange Plan Details
October 17, 2014
By Ray Wilson+
What Is the Platinum Plan?
The Affordable Care Act, commonly known as ObamaCare, has created four health insurance plans which are named Bronze, Silver, Gold, and Platinum*. All plans must offer the same ObamaCare essential benefits, however individual providers may offer extended/additional benefits. Platinum is the most comprehensive of all theses plans with the highest monthly premium but has the lowest out-of-pocket costs (combination of deductible, copayment, and coinsurance).
*There is also Healthcare Exchange Catastrophic coverage, for those who qualify.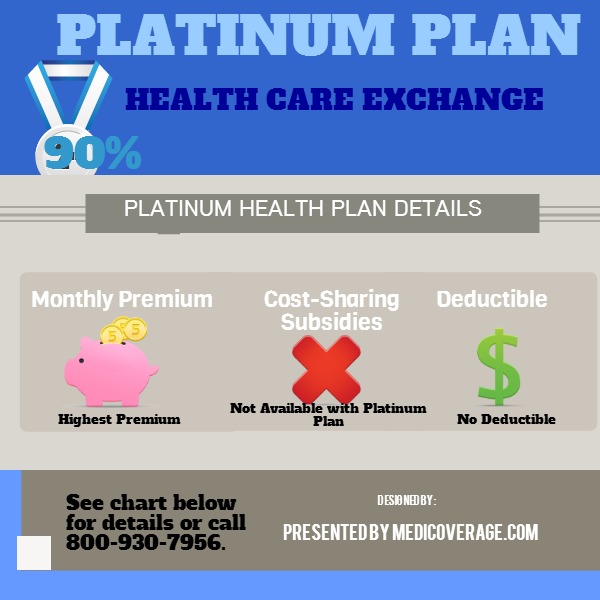 Platinum Plan Basics
The following information below is for individual and family members. Click here to learn about how the Platinum plan works for Small Business owners under ObamaCare.
90/10 split, with you paying 10% for healthcare expenses
Highest monthly premium. This is without federal subsidies, Do I Qualify for Federal Subsidies?
$0 deductible for medical services for many plans
| | |
| --- | --- |
| Benefits | Platinum Health Plan* |
| Deductible | $0 |
| Preventive | $0 |
| Doctor's Office Visits | $20 |
| Specialist | $40 |
| Generic Rx | $5 |
| Brand RX | $15 |
| Lab Testing | $20 |
| X-ray | $40 |
| Maternity | $250 per day HMO**/10% PPO |
| Out-patient Surgery | $250 HMO/10% PPO |
| Hospital Stay | $250 per day HMO**/10% PPO |
| ER Visit | $150 |
| Urgent Care | $40 |
| Out-of-Pocket Max | $4,000/$8,000 (ind/fam) |
**Up to 5 days
*This chart is based on California's Platinum plan. For plans available in your store click here to get an Exchange Quote.
Is there only one Platinum Plan?
Although it is expected that Platinum plans will not have a deductible, there may be multiple Platinum plans offered in the same state. Specific plans will be determined by state leaders and insurance providers.
How does the Platinum Plan Compare to the Other New Plans?
Platinum will cost you the most per month, but will have the least out-of-pocket expenses, therefore you will be able to predict your spending in case of emergency or illness. California currently states that the Platinum plan out of pocket Maximum will be $4000 for individuals and $8000 for families. Something important to note is this plan is likely to attract the highest risk persons, which may in turn raise premiums in the future. Click here to compare Bronze Plan, Silver Plan, Gold Plan, and the Platinum Plan side-by-side.
Health Care Reform and Seniors
Seniors do not have the same options because they will still be enrolled in Medicare. Click here to learn about Medicare and the Health Care Exchange.
For any questions or assistance in applying (open enrollment is from November 15, 2015 to February 15, 2015, please call 800-930-7956 or contact Medicoverage. Click here if you're ready to apply for a Platinum plan.
The next open enrollment for new health coverage begins October 15, 2015. Applications must be submitted before December 7, 2015 to start a plan in 2016. If you are looking to get covered in 2015 you still have a few options. See link below:
Click here to learn how to get covered in 2015 if you missed the Obamacare 2/15 deadline.
Comments for Platinum Healthcare Exchange Plan Details
Click "Here" to leave a Comment
My spouse and I would like to know if we can just a catastrophic insurance plan for this year as we are still paying on some medical debt that my spouse had accrued several years ago?
MEDICOVERAGE AGENT RESPONSE
Robert,
Thanks for your question. Generally speaking you would need to fall into a low income range to qualify for a Catastrophic plan and generally speaking the Bronze plan will offer you more for not much more each month. Call 800-930-7956 to learn if you qualify for Catastrophic coverage.
Chris from medicoverage.com
Has Arizona published the preliminary premiums for the new metal plans, specifically gold and platinum?
Thanks,
Paget
MEDICOVERAGE AGENT RESPONSE
Paget,
Thanks so much for your question. Arizona chose not to set up its own Exchange, therefore it defaulted to the fed's page. Most of our clients have found the fed's website a bit frustrating. We suggest you wait to sign up until the technical issues are fixed, and plan details such as doctor networks are available. In the meantime, check out Arizona ObamaCare premium rates -remember these are just general prices and don't reflect all ages and premiums.
And, don't worry, you have until Dec 15 to sign up for coverage to begin on Jan 1. We are authorized to assist people to sign up so please feel free to call us at 800-930-7956.
-Kelly at Medicoverage.com
Are there any published premiums for the metal plans?
MEDICOVERAGE AGENT RESPONSE
Chris,
Thanks for writing to us. Some states, such as California, Colorado, and New York, have released their preliminary premiums for the new metal plans. It would depend on which state you reside in. Call us at 800-930-7956 to learn if your state has published their premiums.
Chris www.medicoverage.com