Finally an Easy Way to Apply for ObamaCare
November 13, 2013
By Katie Banks+
As you have probably heard, the ObamaCare website has had some serious glitches, but now there is a way to avoid all that. Medicoverage announced today that they are able to quickly submit paper applications for ACA Bronze, Silver, Gold, and Platinum plans in most states.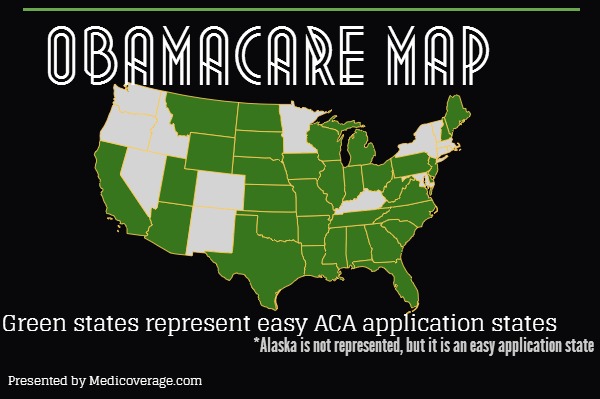 ObamaCare ACA Paper Application
The Affordable Care Act paper application is now available for individuals and families in the following states. This is the easiest way to apply for health coverage. Click on your state below to access the application.
Alabama ObamaCare Application
Alaska ObamaCare Application
Arizona ObamaCare Application
Arkansas ObamaCare Application
California ObamaCare Application
Delaware ObamaCare Application
Florida ObamaCare Application
Georgia ObamaCare Application
Indiana ObamaCare Application
Illinois ObamaCare Application
Iowa ObamaCare Application
Kansas ObamaCare Application
Louisiana ObamaCare Application
Maine ObamaCare Application
Michigan ObamaCare Application
Mississippi ObamaCare Application
Missouri ObamaCare Application
Montana ObamaCare Application
Nebraska ObamaCare Application
New Hampshire ObamaCare Application
New Jersey ObamaCare Application
North Carolina ObamaCare Application
North Dakota ObamaCare Application
Ohio ObamaCare Application
Oklahoma ObamaCare Application
Pennsylvania ObamaCare Application
South Carolina ObamaCare Application
South Dakota ObamaCare Application
Tennessee ObamaCare Application
Texas ObamaCare Application
Utah ObamaCare Application
Virginia ObamaCare Application
West Virginia ObamaCare Application
Wisconsin ObamaCare Application
Wyoming ObamaCare Application
Need Assistance filling out the Application?
You can call an agent to receive help while filling out the app or selecting the right plan by calling 800-930-7956. We are here to help you. Many people don't realize that there is no fee to work with an agent. With our help and the new paper application you won't experience the ObamaCare website timing out nor the long wait times for hotline assistance (apparently reported up to 45 mins!). And, not to worry, you will be still be eligible for ObamaCare subsidies if you qualify.
When you're done with your application fax it to 310-765-4136 or mail it to the address on the cover sheet of your application.
ACA: Fed SHOP Delay, Small Businesses Enroll Through Agents
November 30, 2013
By Amy De Vore+
Healthcare.gov delayed the Affordable Care Act federal SHOP* exchanges purchased through their site till 2015. However, small businesses, if they qualify, may still receive SHOP tax credits when they enroll through insurance agents or brokers for the new ObamaCare small business plans.
*SHOP stands for Small Business Health Option.
This is just one of many delays, including the employer requirement that employers with 50 or more full-time equivalent employees must offer insurance or face a penalty. This was also delayed until 2015.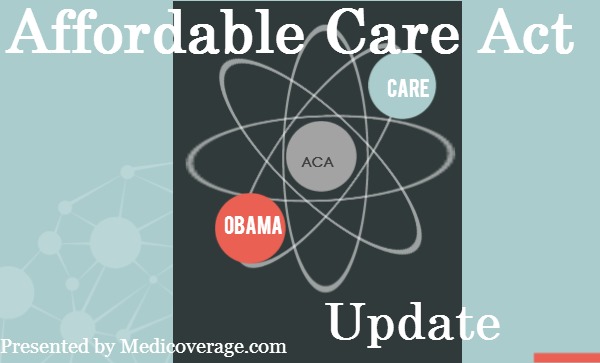 SHOP Employers Enroll Through Agents
Agents, like the team at Medicoverage, will be able to help employers find a plan(s) and enroll them, even though they cannot use the federal website. For employers to get an idea of plans click here to see the individual and family ACA Bronze, Silver, Gold, and Platinum plans available. Employers will need to contact their agent directly at 800-930-7956 to find out what works best for them.
If Your Employer Chooses Not to Enroll in SHOP
If you are an employee who will not receive job-based health insurance you are still mandated to have health insurance or pay an ACA penalty (tax). If you need your own health insurance go to HealthApplication.com to fill out your individual or family application. Once you send in this application your agent will inform whether you are eligible for federal subsidies and explain the plans to you.
Remember before you do anything, check with your employer to see if they enroll you in a plan. If your employer offers you qualifying insurance you cannot receive subsidies. For further questions contact Medicoverage.
Fed's ACA Website Will Not Be Fixed by Dec 1st, CMS Says
November 27, 2013
By Katie Banks+
The federal website, Healthcare.gov, "will not work perfectly on Dec. 1," per CMS spokesperson, Julie Bataille. The spokesperson went on to say, "periods of suboptimal performance" will still be present due to high traffic and technical difficulties, according to The John and Rusty Report.
The website has been plagued with long wait times and the system timing out when people try to apply for one the new ACA plans: Bronze, Silver, Gold, and Platinum. Bataille's announcement came after the federal website had an unexpected one hour outage on Monday, November 25, 2013.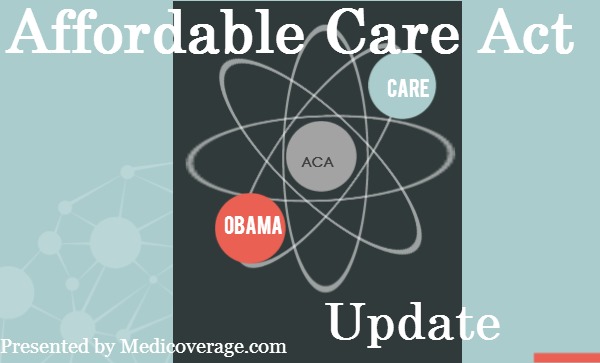 How to Avoid the Federal Website
Many people may not realize that they do not have to use the federal website to be insured and receive federal subsidies on January 1, 2014. Agents and brokers are able to help people enroll in plans without the consumer having to go onto the fed's site. All federal applications should be in as early as possible to have coverage on January 1, 2014. Below you will find the application:
At anytime if you have a question while filling out your application or to learn about which plan is right for you call 800-930-7956 or contact Medicoverage.
ObamaCare: Federal Enrollment Extended Till Dec 23rd
November 27, 2013
By Ray Wilson+
The federally run Obamacare plans have received an extension till December 23, 2013 for a January 1, 2014 start date. This gives consumers in those states an extra 8 days to decide on one of the new Bronze, Silver, Gold, or Platinum plans.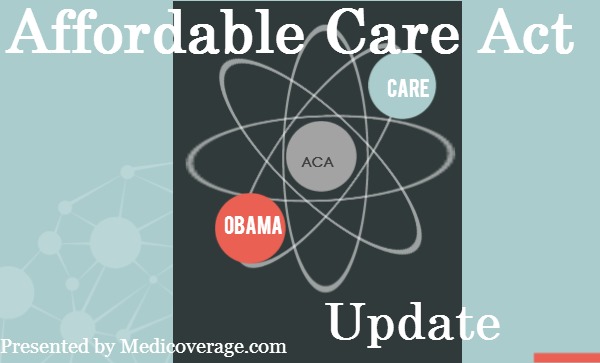 ACA Applications
Go to Healthapplication.com to get your paper application. Once you fill out the application and send it in, you will be contacted to discuss plans and informed if you qualify for subsidies. Remember to fax, scan and email, or snail mail your application in as soon as possible.
To learn if your state has extended its deadline call 800-930-7956 or contact Medicoverage.
Do you Live in one of the 24 States Not Expanding Medicaid?
November 07, 2013
By Amy De Vore+
24 states have decided not to expand Medicaid to about 5.4 Million eligible residents. The Affordable Care Act presented a plan to the states that 100% of the cost of Medicaid would be covered by the federal government for the first three years, after that the states would pay 10% of the cost in the fourth year. However, some states did not think was advantageous to its citizens. Individuals are still able to purchase the Bronze, Silver, Gold, or Platinum plans, but they would not be eligible for subsidies if they fall below 100% of the poverty line ($11,490 for 2013).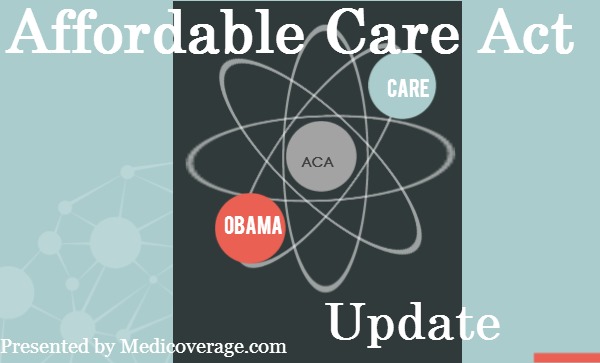 The following states have chosen not to expand Medicaid: Alabama, Alaska, Florida, Georgia, Idaho, Indiana, Kansas, Louisiana, Maine, Mississippi, Missouri, Montana, Nebraska, New Hampshire, North Carolina, Oklahoma, Pennsylvania, South Carolina, South Dakota, Tennessee, Texas, Utah, Wisconsin, and Wyoming.
For further questions call 800-930-7956.
ObamaCare: New Hampshire Rates
October 08, 2013
By Ray Wilson+
New Hampshire's Affordable Care Act premium rates have been released. The state of New Hampshire is handling the Health Insurance Marketplace plans differently than most states by doing these two things: only offering a single provider (Blue Cross Blue Shield) and only offering three tiers of the metal plans: Bronze Health Plan, Silver Health Plan, and Gold Health Plan. The plan left out is the Platinum Health Plan, which offers the most comprehensive coverage.
New Hampshire Exchange Rates
The chart below displays the 2014 New Hampshire ACA plans. Keep in mind that only a handful of ages are represented, as well as the monthly costs do include subsidies. To learn your specific premium or if you qualify for premium subsidies or cost-sharing subsidies call 800-930-7956 or contact Medicoverage. Scroll to the right to see prices.
Click here to see a full-screen version of the New Hampshire ObamaCare rate chart.
Anthem Blue Cross Blue Shield NH Exchange Rates
September 19, 2013
By Katie Banks+
Anthem BCBS has released its Health Insurance Marketplace rates for New Hampshire. Anthem is the provider offering on-Exchange plans in NH, and will only offer 3 of the 4 ACA plans: Bronze Health Plan, Silver Health Plan, and Gold Health Plan.

Anthem Blue Cross Blue Shield NH Rates
Below are the average rates for individuals without ACA premium subsidies. The links to Bronze, Silver, and Gold are purely illustrative.
Deductibles for Anthem's NH Exchange Plans
It is important to note only Silver qualifies for Affordable Care Act cost-sharing subsidies, and if qualified you many have a lower deductible. Below are deductibles for individuals without subsidies:
Bronze: $5,750
Silver: $2,500
Gold: $1,000
For any further questions about Anthem's plans in NH or any other on or off-Exchange plans in your state call 800-930-7956 or contact Medicoverage.
Anthem BCBS Only Game In Town for New Hampshire Exchange
September 19, 2013
By Ray Wilson+
Anthem Blue Cross Blue Shield is the only approved plan by NH and the feds for the federal Health Insurance Marketplace and will sell only 3 of the 4 new Affordable Care Act metal plans: Bronze Health Plan, Silver Health Plan, and Gold Health Plan. The plan left out is the Platinum Health Plan, which offers the most insurance coverage.

Anthem NH Bronze, Silver, Gold Plans
Anthem will offer a total of 11 plans: 5 Bronze, 3 Silver, 2 Gold, and 1 ACA Catastrophic Health Plan.
Anthem BCBS New Hampshire Network
74% of Primary Care Providers
(PCPs)
85% of Specialists, Allied, and Other Professional Providers
83% of Ambulatory Surgery Providers
98% of the current Ancillary network (e.g. Lab, Durable Medical Equipment, Ambulance, Home Care)
Essential Community Providers (ECPs)
6 out of 26 hospitals in NH, and 1 in MA
To learn more about what Anthem BCBS premiums and plan breakdowns for New Hampshire or your state call 800-930-7956 or contact Medicoverage.
How the Affordable Care Act Helps the Uninsured
May 31, 2013
By Amy De Vore+
The Affordable Care Act helps the uninsured in a few ways. For instance, in the LA Times today there was an article about a woman making $12.68 an hour, mother of one child, lives in Los Angeles, and recently choose to forego surgery because she was uninsured. As of January 1st this woman would have options for health coverage.

How the Affordable Care Act Helps Uninsured
She isn't qualified for Medicaid, however since she works she may qualify for job-based insurance as 2015. Until then and if her employer doesn't offer insurance she would qualify for premium subsidies and cost-sharing subsidies, and her daughter would qualify for Medi-Cal.
Costs for Lower-Income Families
The article doesn't state how old she is, but if she is 30, her Silver plan premium could be as low as $93 a month and her deductible would be reduced from $2000 to $500, and a reduced maximum out of pocket from $6,350 to $2,250. This would apply to any single parent to one child living in the Los Angeles area, making her salary.
How do Lower-Income Families and Individuals Get Insurance?
First, it's important to remember for anyone purchasing a plan from the Health Insurance Marketplace you need your W2 paperwork and financial information handy like child support, alimony, assets. Then you can either go directly through your state's newly established call center's navigators or you can go through your insurance agent. Many don't realize that agents can help with on and off-Exchange plans.
Lower Income Seniors
Seniors do not have to do anything as of January 1st. Seniors stay on Medicare and do not apply for the new metal plans. Make sure your friends and parents are aware that there is nothing for them to do, because states are vocally expressing their concerns about seniors being tricked by scammers into giving away personal information due to the lack of awareness in regards to the ACA.
To learn if you qualify for a subsidy call 800-930-7956 or contact Medicoverage.
New Hampshire Healthcare Exchange: Getting Ready for ObamaCare
May 16, 2013
By Katie Banks+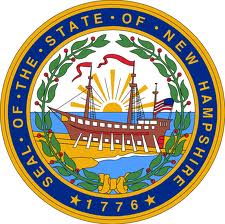 The Patient Protection and Affordable Care Act, AKA ObamaCare or Healthcare Exchange, begins on January 1, 2014. What does this mean for the people of New Hampshire? Below is a list to help you get ready for the deadline.
Healthcare Exchange NH
• All 1.3 Mil residents of New Hampshire must purchase federally approved health insurance, unless otherwise exempt, during the initial enrollment period or you will charged a penalty. One exemption is if essential coverage would cost more than 8% of your income. To learn more about ObamaCare penalties for the uninsured and to find out if you qualify as exempt, please read the article Affordable Care Act: Penalties for the Uninsured.
• All residents of New Hampshire are eligible for health insurance coverage, regardless if you have a preexisting condition. To learn more about this, read the article ObamaCare: Guaranteed Issuance for Everyone.
• The initial open enrollment period is October 1, 2013 and ending March 31, 2014. The open enrollment period for 2015 and beyond will be a 3 month period. Contact 800-930-7956 extension 0 for assistance signing up.
• Federal subsidies are available for thousands in state of New Hampshire. To find out if you qualify for a federal subsidy and to learn more, read the article Health Care Exchange Subsidies: Do You Qualify?
Further Questions
You do not have to go this alone, for any questions about ObamaCare policies and New Hampshire please call 800-930-7956 the number above or contact Medicoverage: New Hampshire.
CT and NH Announce Last Days for New Tonik plans
September 26, 2011
By Katie Banks+
Anthem Blue Cross Blue Shield of Connecticut and New Hampshire have announced that Oct 14th will be the last day new members can join Tonik. This means Tonik will be effective full and anyone hoping to join after October 14th will be out of luck. Those members who have already joined Tonik can keep their plan and no action is required at this time.
The Tonik application page will still be up for new applications until the deadline. We are recommending that all CT and NH applicants submit their application by October 13 as it is unclear at what time on the following day the application will no longer be functioning.
If you have any questions about the above, please contact us at 800.930.7956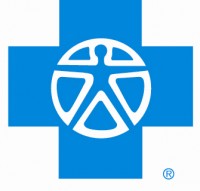 Anthem NH makes Case during negotiations with Exeter Hospital
September 10, 2010
by Sam McDonnell
Anthem Blue Cross of New Hampshire is currently in negotiations with Exeter Hospital. They are trying to come to a new agreement with Exeter Hospital that is more favorable to Anthem. Anthem claims that Exeter is 50% more expensive than similar hospitals in the state:
Please take a look at the reasoning below by Doug J. Wenners (President and General Manager) and let us know what you think!!!! We will keep you updated to the status.
"Several telling examples underscore the high cost of health care delivered at Exeter Hospital.
Exeter is among the most profitable hospitals in the state, with healthy annual operating margins of 9.93% (2007) and 10.32% (2008). According to a report from the New Hampshire Center for Public Policy Studies, titled Driving Health Care Premiums: Cost Shifting in New Hampshire , Exeter Hospital enjoyed the second highest operating margin in the state among non-profit hospitals in 2007.
Cost for common procedures at Exeter Hospital, such as CT Scans, are two times the cost than at peer hospitals like Elliot Hospital or Catholic Medical Center, according to the New Hampshire Department of Insurance website.
The New Hampshire Hospital Score card, a report commissioned by the state's fourth largest public health care purchasers, found that Exeter Hospital was the highest cost hospital in the state.
This increase in medical spending has a direct impact upon premiums. Costs and utilization continue to rise at a rate that far outpaces the increases in median family income, and many New Hampshire businesses are already struggling to provide affordable health care coverage for their employees."
If anyone from Exeter would like to make their case here, we would gladly publish it.
Anthem to remove lifetime maximum limits on all plans
August 21, 2010
By James Wilson Jones
Anthem Blue Cross announced today that it has begun the process to remove lifetime maximum payouts to its health insurance plans. The recent health care reform legislation states that insurance plans can no longer have lifetime and annual dollar limits on "essential health benefits" as soon as September 23, 2010.
Since the U.S. Department of Health and Human Services (HHS) has yet to clarify its definition of "essential health benefits," Anthem Blue Cross has come up with the following list of the services they believe will be affected:
Alcoholism-related services
Ambulance services
Asthma education
Bariatric surgery
Chiropractic manipulation and osteopathic manipulation services
Diabetic supplies
Diagnostic services
Durable medical equipment
Enteral formula and food products
Hearing aids
Home health care
Hospice
Infusion therapy
Kidney disease treatment
Mental health/substance abuse
Ostomy supplies
Outpatient occupational therapy
Outpatient physical therapy
Outpatient speech therapy
Pharmacy
Physician office visit (diagnostic services)
Preventive services
Prosthetic devices/limbs
Skilled nursing services
Prosthetic devices/limbs
Skilled nursing services
Transplant services
Treatment of temporomandibular joint disorder (TMJD or TMJ)

Anthem states that the listed services still may be subject to copays and other cost shares and will be phased in over time. Annual dollar limits of at least $750,000 will be allowed for plan years from September 23, 2010, to September 23, 2011. Annual dollar limits of at least $1.25 million will be allowed for plan years from September 23, 2011, to September 23, 2012.Annual dollar limits of at least $2 million will be allowed for plan years from September 23, 2012, to January 1, 2014. After January 2014 there will be no lifetime limits and annual dollar limits.