Washington Healthplanfinder Under-Quoted Over 8,000 Applicants
Per a Washington Healthplanfinder email, over 8,000 applicants were offered higher tax credits than should have been allowed based off their income and members of their household for the new Bronze, Silver, Gold, and Platinum plans.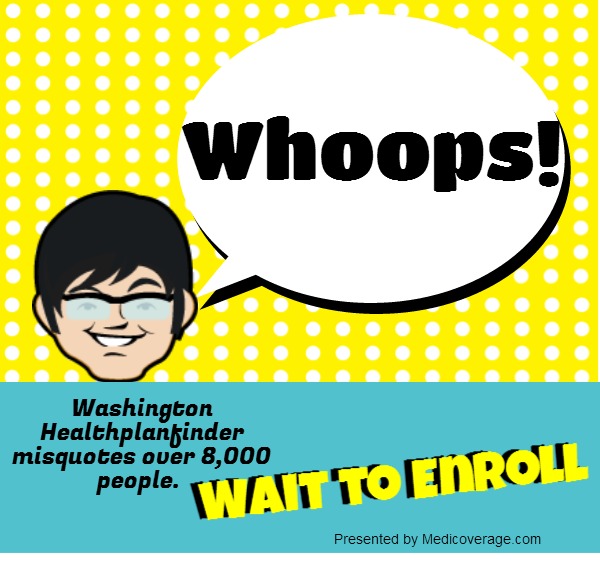 WA Website Glitch
From the email released by Washington Healthplanfinder, "Working with the federal government, our IT team traced the issue to inconsistent file formats being shared between Washington Healthplanfinder and the Federal Data Services Hub.The investigation revealed that the two systems were using different parameters to establish estimated household income. As a result, some Washington Healthplanfinder applicants did not receive the correct tax credit information related to their premiums."
WA Residents Who are Affected by the Under-Quote
This problem, according to the email, only affects those who qualify for subsidies. The WA Healthplanfinder assures that this does not affect those that are buying plans that do not qualify for premium subsidies or cost-sharing subsidies, and it doesn't affect the 40,000 Medicaid eligible applicants.
Washington State Late Enrollment
Most U.S. residents can apply for a plan until Dec 15th for a Jan 1st start date, but Washington State allows its residents to apply until December 23rd for the first of the year start date.
Wait to Enroll in ACA Plans
Even though, Washington claims that this problem was fixed as of October 23rd, we suggest waiting to enroll in any plan until glitches in all the exchanges are repaired. As the federal website also is under-quoting premiums, but in fed's case, it affects applicants regardless if they qualified for subsidies. Remember an agent is able to help you enroll in any of the ACA plans and they will be able to help you understand how all the plans work. To learn more call 800-930-7956 or contact Medicoverage.