ObamaCare Platinum Plan Outline
ObamaCare begins its Healthcare Exchange as of January 2014. Each new "metal" plan must offer the Healthcare Exchange essential benefits. Although every plan must offer these benefits, states and providers may still extended or add additional benefits to these plans.The Platinum Plan has the highest monthly premium with the lowest out-of-pocket costs. Click here to compare Bronze Plan, Silver Plan, Gold Plan, and the Platinum Plan side-by-side.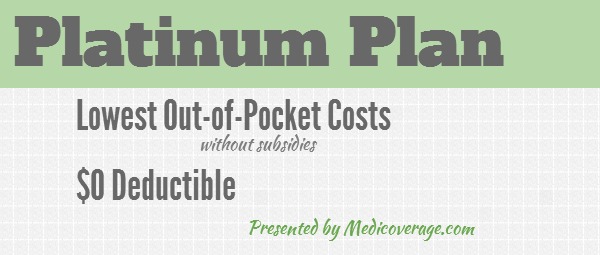 *ObamaCare Catastrophic coverage is available to individuals under thirty and who do not qualify for federal subsidies.


Below is the most up-to-date information available, as the federal and state governments work to fine tune the details of these plans we will update this article.


Platinum Plans*
These Platinum plans are specific to individual and family members. Click here to learn about how the Platinum plan applies to the Healthcare Exchange and Small Businesses.


| | |
| --- | --- |
| Benefits | Platinum Health Plan* |
| Deductible | $0 |
| Preventive | $0 |
| Doctor's Office Visits | $20 |
| Specialist | $40 |
| Generic Rx | $5 |
| Brand RX | $15 |
| Lab Testing | $20 |
| X-ray | $40 |
| Maternity | $250 per day HMO**/10% PPO |
| Out-patient Surgery | $250 HMO/10% PPO |
| Hospital Stay | $250 per day HMO**/10% PPO |
| ER Visit | $150 |
| Urgent Care | $40 |
| Out-of-Pocket Max | $4,000/$8,000 (ind/fam) |


**Up to 5 days


*California was the first to release its Healthcare Exchange details and much of the copay information we know so far are based on their figures. CHART UPDATED 9/26/13. For information about specific details of the Platinum health plan in your state call 800-930-7956.


UPDATE 11/27/13: For an easy way to fill out your Affordable Care Act application go to Healthapplication.com. Remember to fill it out and send it in as soon as possible to ensure the earliest enrollment date.


How Much is the Platinum Premium?
Premiums depend on state, region, provider, age, and whether you qualify for a federal premium exchange subsidy. With California's numbers being the first available, the lowest priced Platinum Plan for a 40 year old, non-smoker living in Los Angeles is $311.


Next Steps:
For questions about the Platinum Plan in your state please contact Medicoverage.