Young and Healthy? Why You Should Still Get Health Insurance
Young Americans are disproportionately under served in the health insurance market. Most of the young and healthy feel that spending extra money each month on a premium doesn't make sense since it is cheaper to pay for an individual doctor's visit than pay out of pocket each month. Of course this has a logic to it, however there are a few things the young and healthy may not have considered.
There are a few reasons why you would want health insurance, even if you have no health issues. The main reason is most people don't realize that an average 3-day hospital stay costs $30,000 and setting a broken leg costs $7,500. Extreme sports like skydiving and snowboarding, as well as something people do everyday like walking on uneven pavement could cause a broken leg. It is the unforeseen that can cost a lot.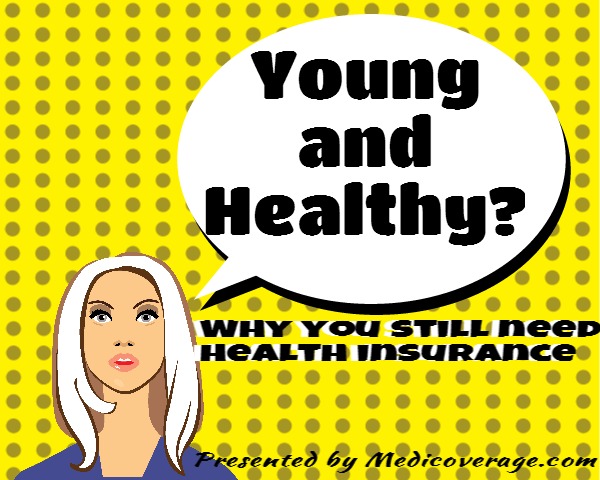 How ObamaCare Helps the Young
There are a lot of ways that ObamaCare helps young people. First all young persons under 26 can stay on their parent's plan. It also guarantees with all qualified health plans $0 preventive care, as well as nine other essential health benefits including mental health benefits, emergency care, and prescription drug coverage. According to Young Healthy Americans, a non-profit who promotes health to young persons, states that the average 25 year old makes $15,000 a year. With the Affordable Care Act, persons making anywhere from $11,490 to $45,960 qualify for premium subsidies to help keep monthly costs down with the new metal plans known as the Bronze Plan, Silver Plan, Gold Plan, and Platinum Plan. Also, if you are a full time employee and work for a company with more than 50 full time equivalent employees, as of January 2015, your employer must offer you health insurance.
Health Plans Available to the Young
There are plans available now that will cover you through December 31, 2014. Many of the plans available now offer coverage with low premiums and you don't have to wait till the Affordable Care Act goes into full effect to have coverage. Plans designed for the young and healthy with coverage for essentials and low copay office visits before the deductible is satisfied are Tonik plan of Colorado or SmartSense plan of California (these plans are available in other states as well).
Beginning October 1, 2013 the Health Insurance Marketplace's open enrollment begins. At this time persons under thirty can sign up for a Catastrophic plan that will help will the in case of emergency health care coverage. However, if you qualify for premium subsidies one of the new metal plans may cost you less than a Catastrophic plan, and you would have a lot more coverage.
Remember if you don't have insurance in 2014 you'll owe a penalty of 1% of your income or $95, whichever is greater.
If you need help finding a plan now or learning about the new metal plans call 800-930-7956 or contact Medicoverage.