ObamaCare: Off-Exchange Plans Protect Privacy
Beginning January 1, 2014 the Affordable Care Act's individual mandate goes into full effect. However, few people know you can purchase off-exchange plans, and with these plans you don't have to give all your financial details to a navigator or to your agent. If you want to protect your privacy and you make more than $45,960 (2013 subsidy qualifying figure) you should purchase your plans outside the Health Insurance Marketplace.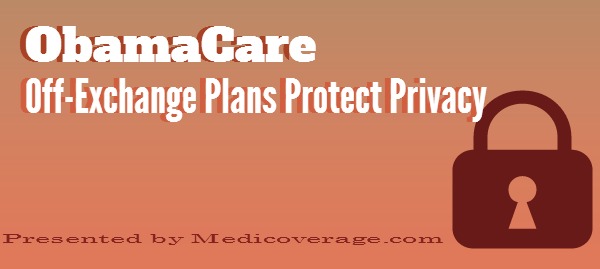 What are Off-Exchange Plans?
Off-Exchange plans are simply plans purchased outside of the Health Insurance Marketplace. All plans beginning in 2014 must be qualified plans, therefore you will still reap the benefits of the essential health benefits required by the Affordable Care Act of the new ObamaCare Bronze, Silver, Gold, and Platinum Health Plans, without the extra headache of excessive paperwork by purchasing an off-Exchange plan. Some providers may offer identical plans to the metal plans while others may offer more benefits in plans that are purchased outside of the Exchange.
Why Would I Purchase Off the Exchange?
If you go through the Exchange as an individual you must fill out lots of questions about alimony, assets, investments, child support, and income. Therefore, if you know you make too much money to qualify for the new federal Affordable Care Act subsidies you can save a lot of time, as well as protecting your personal information by purchasing an off-Exchange plan.
If I Purchase Off the Exchange How Do I Avoid a Penalty?
Most Americans will have to have insurance as of January 1, 2014 or pay a penalty of $95 or 1% of their income. The penalty is assessed when you do your taxes. Your insurance provider will send you a form that states that you have the essential health benefits and you will attach that to the rest of your tax paperwork showing the IRS you are covered. This will happen regardless of where you purchase your plan. This way you still have all the bases covered so that you don't owe a penalty.
Besides the off-Exchange plans available as of January 1st, you are able to enroll in a plan now that has a policy end date of December 31, 2014. To enroll in a plan now or to learn about on and off-Exchange plans available call 800-930-7956 or contact Medicoverage.