MAGI and the Affordable Care Act
The Affordable Care Act subsidy eligibility is determined by your household's Modified Adjusted Gross Income, more commonly known as MAGI. But that seems real complicated, so what does it mean? Don't worry we've got you covered. First thing to know is the new plans are called the ACA metal plans: Bronze, Silver, Gold, and Platinum. The rest you'll learn from the easy to understand chart below.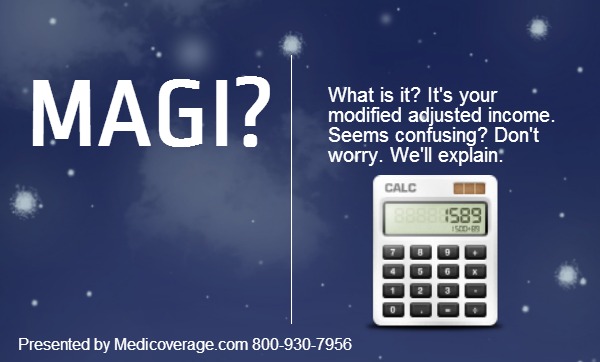 MAGI Easy to Read Chart
For most people their MAGI will be the same as their adjusted gross income. See the chart below for details.
| | |
| --- | --- |
| What You Need to Include | What You Don't Include (Subtract this) |
| Wages, salaries, tips, etc. | Some self-employed expenses |
| Taxable interest | Student loan interest |
| Taxable amount of pension, annuity, IRA distributions, Social Security benefits | Tuition and fees |
| Business income, farm income, capital gain, other gains/losses | Educator expenses |
| Unemployment wages | IRA deduction |
| Dividends | Moving Expenses |
| Alimony Received | Penalty on early withdrawal of savings/CD |
| Profits from rental property and royalties | HSA deduction |
| S Corp, Partnership, Trust profits | Alimony paid |
| Taxable refunds, credits, or offsets of state and local income taxes | Moving Expenses |
| Trust Profits | Certain business expenses of reservists, performing artists, and fee-basis government officials |
| Other income | Domestic production activities deduction |
*Remember to always check with your tax person about your specific MAGI details. As there are a few things that you add back after all this is done like tax-exempt interest, and if to qualify for Medicaid you don't include things like scholarships.
You Can Avoid All the MAGI Trouble With an Off-Exchange Plan
If you know there is no way you qualify for either an ACA premium subsidy or federal cost-sharing subsidy then you can purchase a plan off the Exchange and avoid rounding up all this paperwork. Agents can help you learn if you qualify for subsidies by asking a few questions and lead you to either a Health Insurance Marketplace plan or an off-Exchange plan.
For further questions about your eligibility call 800-930-7956 or contact Medicoverage.