Feds Say: Consumers Must Renew ObamaCare Plans
The federal Health Insurance Marketplace just announced that Obamacare consumers should return to the federal site during open enrollment to renew their plans for 2015. If they don't, they may find that they are uninsured as of January 1st.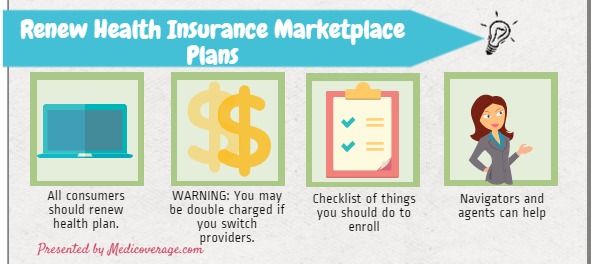 Renew Your Health Plan
All plans for 2014 end on December 31st. Even though some people who don't do anything will be renewed into either their current health plan or the federal site will enroll them into a similar plan, a large group of people will fall into the group that isn't renewed or rolled over into a new plan. If you end up in the latter grouping you might find yourself without health insurance on January 1, 2015. Since renewal letters may not be sent out in time, the federal marketplace is suggesting that all consumers are proactive and return to the website to renew or choose a new plan.
If You Switch Plans You May Be Double Charged
If you switch plans to a new a health insurance provider through the federal marketplace they will not inform your former insurer that you have cancelled and you may receive bills for both premiums, or if you sign up for auto-pay you may see two deductions until you cancel one of the plans.
What You Need to Do
You'll need to do four things to get your new Bronze, Silver, Gold, or Platinum plan:
1) Review your coverage because premiums, cost-sharing, and networks may change for 2015
2) Update your application: address, income, and household information
3) Compare your plan to other plans in your area
4) Enroll
Too Confusing? There's Help
Remember that you don't have to go through all this red tape alone. The federal health insurance marketplace offers navigators at no cost to you to help you understand the different plans and learn if you qualify for premium subsidies and/or cost-sharing subsidies, however navigators are NOT allowed to suggest a plan. Another option is to work with an insurance agent, who, also at no cost to you, can do everything a navigator is able to plus agents are allowed to suggest plans.
Further questions
For further questions about what to do in the federal health insurance marketplace call 800-930-7956 or click here if you are ready to fill out your federal health insurance marketplace application.