HMO vs EPO vs PPO Obamacare Networks Explained
With the Affordable Care Act plans you might be seeing this term "EPO" as an option. You've probably heard of HMOs and PPOs, but EPO is not as widely used until now. The new Bronze, Silver, Gold, and Platinum plans in many states will offer EPOs. To make it easier, we decided to explain the difference between all three so you know which type of plan is best for you.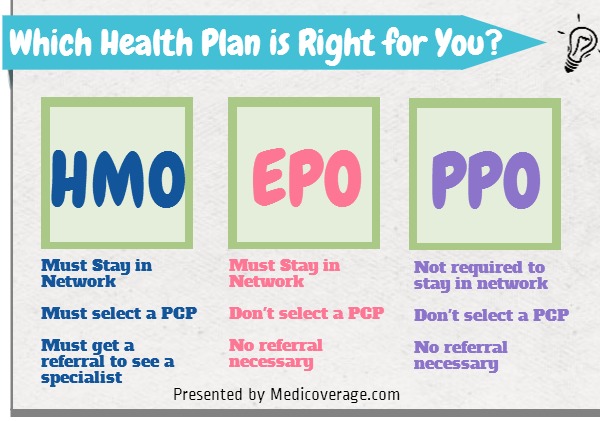 What is an HMO?
HMO is short for Health Maintenance Organization. Here's the basics of an HMO: you MUST use network providers. This means your doctors, hospitals, and other health care providers must be in your network or you will pay out of pocket for all costs. There is one exception: emergency care. If you have an emergency your HMO plan must cover you at the same cost whether that hospital is in-network or out of your network.
You will also have to choose a Primary Care Physician (PCP), typically all referrals to see a specialist come from your PCP.
What is an EPO?
EPO is short for Exclusive Provider Organization. EPOs are similar to HMOs, in that you must stay within your network (emergency care is an exception), however with an EPO you generally do not need to select a Primary Care Physician nor receive a referral to see a specialist. This type of plan gives you a little more freedom than an HMO plan.
What is a PPO?
PPO is short for Preferred Provider Organization. PPOs do not require you to choose a PCP nor stay within network, however if you choose to go outside of your network your cost-sharing will be higher and not as many benefits will be covered (emergency services exempted). Due to PPOs having a larger network, they usually have a higher monthly premium. These plans have the most freedom.
Should You Choose an EPO, HMO or a PPO?
That's up to you. You have to weigh your budget and if you have specific doctors and/or hospitals that you prefer to use, as well as if you want the freedom to use a specialist without a referral. Best advice before choosing any plan is to learn what your network is (even if it is a PPO plan). You don't want to be surprised by a bill because you didn't know your doctor or hospital wasn't in your network.
All new qualified health plans will include the essential health benefits, such as maternity, $0 preventive care, and emergency services.
ACA Deadline
The ACA deadline for the federal exchange is December 23, 2013, other states may have earlier deadlines. However, don't wait to the last minute to apply because your paperwork still needs to be processed. To get an Affordable Care Act application go to HealthApplication.com.
For further help deciding which plan is right for you call 800-930-7956 or contact Medicoverage.