ObamaCare Penalties for Those Without Insurance
ObamaCare guarantees issuance for all regardless of preexisting conditions and therefore will impose a penalty for those that do not have insurance for the "metal" plans: Bronze Plan, Silver Plan, Gold Plan, and Platinum Plan.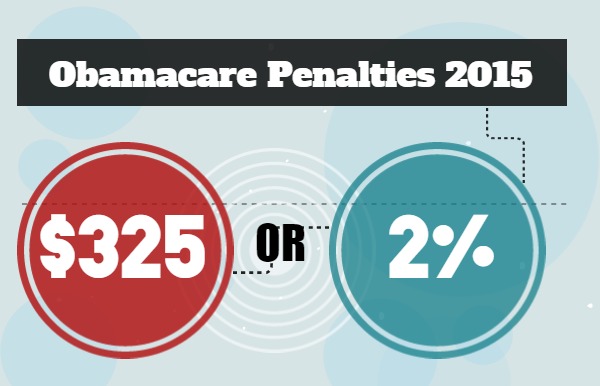 How are Penalties Determined?
With the Affordable Care Act, penalties are determined by the amount of months that a person is without health insurance. For instance, if you didn't have health insurance for 6 months a prorated amount will be tacked on when you do your taxes (you pay 50%). There are small windows of time that you go without insurance that will not effect you. Click here to learn about ObamaCare: Temporary Exemptions for the Uninsured.
What are the Federal Penalties for Being Uninsured?
$325 or 2% of your income in 2015, whichever is higher. There is also an uninsured child penalty of $162.50 per child, maxing out at $975 per family. To learn what your specific monthly premium under the Affordable Care Act would be call 800.930.7956.
Are there Federal Exemptions from Penalties?
Yes, there are a few ways to be exempt from a penalty:
You are an undocumented immigrant
Minimum coverage would exceed 8% of your income even after applied subsidies and/or employer contributions
Being without insurance for less than 3 months
Being below the poverty line, low enough that you don't file a tax return
Against your religious beliefs
You are in jail or prison
You are a member of an Indian tribe
Americans who live abroad for at least 330 days a year
Further Questions
For any further questions about Obamacare penalties call 800.930.7956 or contact Medicoverage.