Affordable Care Act Multi-State Plans
September 25, 2013
By Amy De Vore+
ObamaCare, the informal name of the Affordable Care Act, offers multi-state plans for those who hold residence in two states or work in one state and reside in another. These plans may be purchased on the Exchange but may require an agent's help to make sure you that you have chosen the correct plan of the new Affordable Care Act Bronze Plan, Silver Plan, Gold Plan, and Platinum Plan.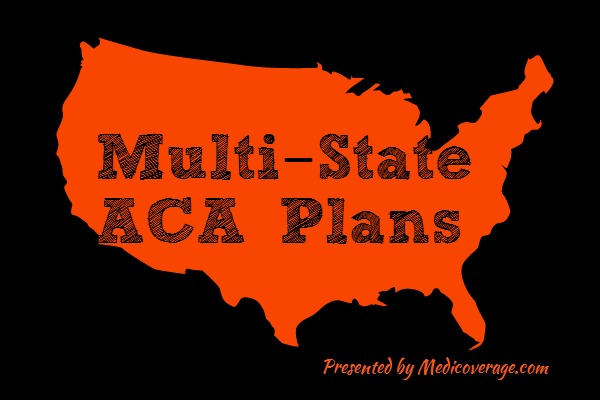 What if I have an Emergency?
You do not need a muti-state plan just for traveling, as all of the new ACA plans include the essential health benefits. One of the provisions of the essential benefits is that emergency services must be covered regardless of whether or not you are in network.
Who Needs a Multi-State Plan?
This is for the bi-coastal/snowbirds out there. You know LA to NYC or if you winter in the Keys. With a multi-state plan you can seek non-emergency care from any health care provider in your network (and emergency care from any health care facility).
What if My Resident State Neighbors the State I Work in?
This is not totally clear whether you need a multi-state plan or not. For instance, if you live in Virginia but work in DC, you technically would want to have a multi-state plan for the purposes if you get a cold or rash and want to seek immediate but non-emergency services. What is not clear is if your provider knows that you live in VA, work in DC and you seek emergency services in your non-resident state, would that be considered gaming the system? Hmm… we don't know. But we will look into that for you.
What are the Rates for Multi-State Plans?
As far as we know you have to name the two states you would be covered in, so this is a case by case basis. So if you live in states with relatively low premiums your plan should reflect that and we are gathering it would pretty close to your single state premium. However, if you have a plan in New York (age is not a deciding factor on plan rates) and say California your premium would be higher than if you were just purchasing a plan in CA, alone. Again, this is all presumption. For your specific rate call 800-930-7956 or contact Medicoverage.
The next open enrollment for new health coverage begins October 15, 2015. Applications must be submitted before December 7, 2015 to start a plan in 2016. If you are looking to get covered in 2015 you still have a few options. See link below:
Click here to learn how to get covered in 2015 if you missed the Obamacare 2/15 deadline.
Comments for Affordable Care Act Multi-State Plans
Click "Here" to leave a Comment
I am planning on retiring at 60. We are plamming on moving to the USVI, which is not covered by aca. I also understand that there are no companies offering insurance in the USVI to individuals at this time.
Can a person living part time in KY or maintaining their mailing address in KY purchase an aca plan in KY and use it in USVI? If not, is there a plan that will cover KY and USVI that can be purchased. We have pre-existing conditions so we will need a plan that covers that.
MEDICOVERAGE AGENT RESPONSE
John,
Thank you for your questions. As far as we can tell, the U.S. Virgin Islands did not participate in creating an exchange; however, it looks like certain companies, like Blue Cross Blue Shield, are selling individual plans. For your second question, you would need to confirm with your tax professional, but, as far as we know you can apply for insurance within the state you pay taxes. Hope this helps.
-Amy www.medicoverage.com
I am a snowbird who as of this year have changed my residency (drivers license, voting registration) from Massachusetts to Florida. I now spend seven months in Florida and five in Massachusetts each year. Of course, I want a plan that covers me appropriately for my split of time each year. In looking at Healthcare.gov, the options seem limited and confusing. What multi-state options exist for my situation? Thank you.
MEDICOVERAGE AGENT RESPONSE
Ken,
Thank you for your question. As a snowbird there may be some plans available to you that offer nationwide or regional networks. Please call us at 800-930-7956, so that an agent can help answer your specific question.
-Chris www.medicoverage.com
My son recently moved home to Boston from CA. We were able to get him insurance coverage through ACA till December 2014.
He is now considering going back to school in CA. He is 23 yo and as you can see is not yet settled.
Is there a policy we can purchase to be assured he has coverage in CA and MA?
MEDICOVERAGE AGENT RESPONSE
Jane,
Thank you for your question. Most plans available on and off the exchange will only cover your son in the state it was issued in (emergencies are covered in any state). However, there may be some PPO plans that offer a wider network. Contact one of our agents at 800-930-7956 to help you find a plan that works for you.
-Chris www.medicoverage.com
Hello
I moved from ct to florida,I recently cancelled my health insurance in ct to purchase one through the marketplace in FL.
I finally kept my house in ct, and I m going to live in both state CT and Fl.
Can I have a second insurance?
thanks
MEDICOVERAGE AGENT RESPONSE
Caroline,
Thank you for your question. There are some PPO plans available that offer regional or nationwide networks. However, they are not abundant and may not be available in your area. We suggest due to the specificity of your question that you contact an agent directly at 800-930-7956, so that we may better help you.
-Chris www.medicoverage.com
I need health care for adjoining states, NV and CA. There doesn't seem to be a problem if you travel out of state, temporarily. But seems to be a problem if for instance you regularly spend part of the year in each state. Many people do this, I am sure. I am currently a kaiser member but it seems that my coverage would be in jeopardy if I did this. So I am looking for alternatives. Regular Medicare would be an option, but I am interested in an Advantage plan if I can find one.
MEDICOVERAGE AGENT RESPONSE
P Neyman,
Thank you for your great questions. If you are turning 65 Medicare offers nationwide coverage, as does Medigap, however most Medicare Advantage plans are local networks and do not cover you when living in two separate states. To learn more about Medicare visit our sister site: Senior65.com
If you are under 65 are looking for an ACA plan, please Call 800-930-7956 so that an agent can help you figure out which plan is right for you.
-Chris from http://www.senior65.com
Hello. My husband is 66 on Medicare I am 61 and we were a small group with our business. With the new health insurance laws we are no longer considered a group. I need an individual plan. The problem is we spend winters in Florida and live the other time in New York. I understand from my broker that there is no insurance that will cover me in New York and Florida. He says my only option is to get a Travelers insurance plan for my time in Florida. What are your thoughts on this? The highest travelers plan will only cover $100,000 per incident. The other individual plans for New York will cover emergency in other states but very limited from what I understand.
MEDICOVERAGE AGENT RESPONSE
Astrid,
Thanks for your question. You are right that all plans offer emergency coverage no matter where you are in the states. As far as your travelers insurance plan it would depend on a few issues. Please call 800-930-7956 to speak to a Medicoverage agent to figure out what is the best plan for you.
-Chris from Medicoverage.com
I am planning to retire within the year at age 62. I will need to purchase health insurance and will live in CT and FL.
I would like to know coverage options and costs for health insurance to be covered in both states.
MEDICOVERAGE AGENT RESPONSE
Maura,
Thanks for you question. Since you will retire before you turn 65 you will need to purchase an individual plan. We know how frustrating it can be to find a plan that covers you in two states. Since your situation is unique, please call 800-930-7956 to speak to an agent to find what health coverage is best for you.
-Chris from Medicoverage.com
I need a multi state health plan for wi & az. My husband is living in Phoenix az because of a job and has since established az as his primary residence. My primary residence is wi. I dont plan on moving within the next year to az We are both 60. Most of the healthcare would be for me. I am on SSD and will not receive Medicare until November We do travel back and forth. He is a self employed contractor in bathroom remodeling. Marketplace has been no help. We do plan to file jointly. I started marketplace in December and no one can tell me how to handle this. Thank you Susan

ObamaCare by State
Find the latest ACA news on your state here