ACA Penalties for Those Who Sign Up During Open Enrollment?
As of January 1, 2014 there Affordable Care Act's individual mandate begins which requires all financially capable persons to have health insurance*. The law allows a three month hiatus of insurance without being charged a penalty, however it is unclear if those sign up March 16 thru March 31, 2014 would be penalized. Those persons would not start their health insurance until May 1st, so if they are uninsured they would be without health insurance for 4 months with either a plan an off exchange plan or one on the Health Insurance Marketplace. These plans are called the Bronze Plan, Silver Plan, Gold Plan, and Platinum Plan
Update: The ACA extended the deadline to enrollment by March 31, 2014 to avoid a penalty.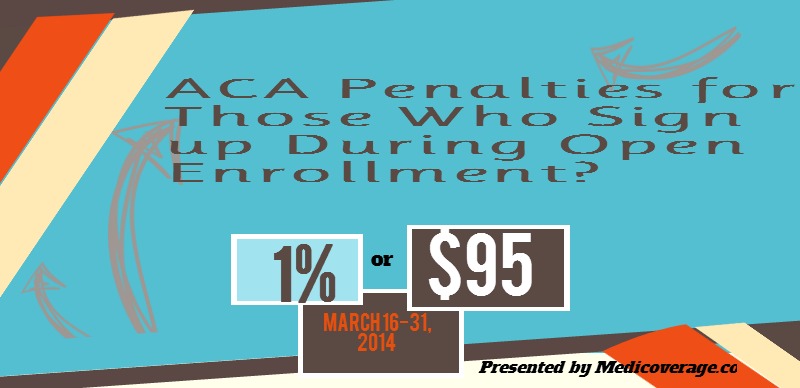 This deadline is more likely for those who currently have insurance but have a policy end date sometime at the top of 2014, meaning they would not be without health insurance for three months. Again, this is unclear, but if those who are uninsured sign up at the tail end of the open enrollment they could pay both a monthly premium and a prorated penalty for the month they were not covered. The ObamaCare penalty for 2014 is set at $95 or 1% of their income -whichever is greater.
*Besides those that are not financially mandated to purchase insurance, there are other exceptions such as it is against one's religious beliefs, Indian tribal members, incarcerated and undocumented persons.
There are plans available now for immediate coverage. Many of these immediate plans offer coverage until December 31, 2014. For assistance with current plans or to better understand the new Affordable Care Act plans call 800-930-7956 or contact Medicoverage.