Nevada Joins Health Care Reform Lawsuit without Attorney General
Without the Nevada Attorney General's consent, Governor Jim Gibbons announced that the State of Nevada will join the federal lawsuit that states the recent health care reform act is unconstitutional.
Gibbons, who spearheaded the Silver State's involvement in the lawsuit, said in a recent press release that the Health Care reform act is, A>?,?_"a national disgrace,A>?,?A_ that A>?,?_"clearly exceeds constitutional authority.A>?,?A_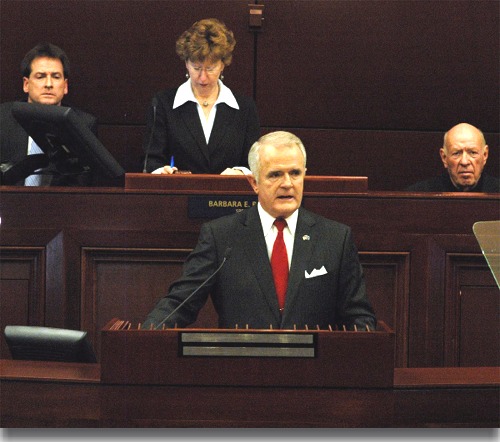 (Governor Jim Gibbons before he was defeated in the Nevada State Primary. Source: gov.state.nv.us)

The lawsuit follows a political tug of war with Attorney General Catherine Cortez Masto. When Cortez Masto refused to file the lawsuit, Gibbons sought outside lawyers who agreed to take the case for free and raised additional money for the litigation through donations.
With the lawsuit, Nevada joins 19 states in the litigation stating that the new legislation would force all Nevada citizens to buy health insurance or face tax penalties.
The governor went on to say that the act is A>?,?_"...patently unconstitutional for the federal government to break the backs of Nevadans by trampling the Constitution and then threaten to use IRS agents to enforce this ridiculous plan.A>?,?A_
Gibbons claimed that the act has already cost the state of Nevada $250,000 in tax money just "to pay for pre-planning for the Nationalized Health Care Plan.A>?,?A_