Gold Health Plan VS Silver Health Plan: Which Should I Choose?
June 18, 2013
By Katie Banks+
ObamaCare initiates its Exchange January 1, 2014. Most people are wondering, "which plan is right for me?" We have laid out the differences between the Silver Plan and the Gold Plan. This should help you make a decision when the open enrollment for the Health Insurance Marketplace runs from October 1, 2013 to March 31, 2014.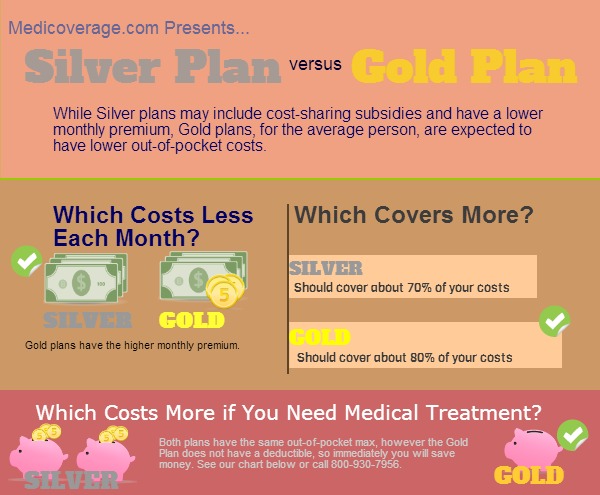 Silver and Gold Plans
Family and individual plans are what the numbers below are based off of, click here to learn more about ObamaCare for Small Business Owners.
As well as the figures below do not include federal premium subsidies or federal cost-sharing subsidies.
| | | |
| --- | --- | --- |
| Benefits* | Silver | Gold |
| Deductible | $2,000 Med | $0 |
| Preventive | $0 | $0 |
| Doctor's Office Visits | $45 | $30 |
| Specialist | $65 | $50 |
| Generic Rx | $25 or less | $25 or less |
| Brand RX | $50 *after $500 Rx deductible | $50 |
| Lab Testing | $45 | $35 |
| X-ray | $65 | $50 |
| ER Visit | $250 *after deductible | $250 |
| Urgent Care | $90 | $60 |
| Out-of-Pocket Max | $6,350/$12,700 (ind/fam) | $6,350/$12,700 (ind/fam) |
| Details | Silver Plan | Gold Plan |
*California was the first state to release its premiums and costs, the number below reflect their numbers. Individual states and insurance providers are still trying to understand this brand new law so therefore we will update this page as new information becomes available. For information about specific details of health plans in your state call 800-930-7956.
Click here to compare the Bronze Plan, Silver Plan, Gold Plan, and Platinum Plan side-by-side.
Which Plan Will Save You the Most?
To learn which plan will save you the most you need to weigh the following:
Learn whether you are eligible for federal premium subsidies and/or federal cost-sharing subsidies.
Actual monthly premium cost
Actual costs for services in your state
Determine what you can actually afford based on your medical history.
Gold may the better choice for you than Silver, if you can afford it, because it has a lower deductible, and more benefits before hitting the deductible. However, Silver is the only plan that offers the ObamaCare cost-sharing subsidies to help with out of pocket costs, such as deductibles, coinsurance, and copayments.
We can help you figure out which is best for you. To learn more about your specific monthly premium or if you qualify for subsidies, click here to contact a Medicoverage agent to get started.
The next open enrollment for new health coverage begins October 15, 2015. Applications must be submitted before December 7, 2015 to start a plan in 2016. If you are looking to get covered in 2015 you still have a few options. See link below:
Click here to learn how to get covered in 2015 if you missed the Obamacare 2/15 deadline.