ObamaCare: $0 Copay for Over the Counter Drugs
ObamaCare includes three new benefits previously unavailable or with a copay. These new benefits include certain over the counter drugs at no cost, free breast cancer genetic counseling and testing, and in California, transgender services with the new ObamaCare plans: ObamaCare Bronze Plan, Silver Plan, Gold Plan, and Platinum Plan.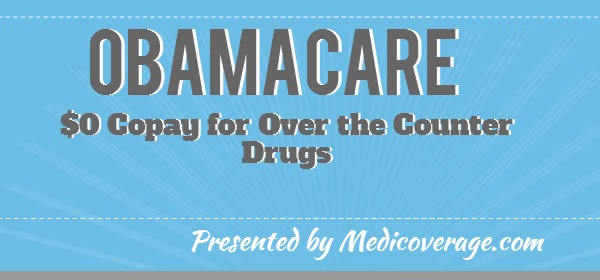 ObamaCare Over the Counter Drugs
Certain over the counter drugs will be covered at a $0 copay for preventive purposes when prescribed by a doctor, such as:
Aspirin to reduce heart attack
Oral Fluoride for children to prevent tooth decay
Folic Acid for women to help prevent birth defects
Iron supplements for children to prevent anemia
Female contraceptives: such as the morning after pill*
*The morning after pill being offered at no cost is a controversial subject because people are saying that it isn't preventive care. However, others are saying it is considered preventive in case of incest, rape, other form of birth control failing.
Also, birth control prescribed by a doctor should be covered at a $0 copay for women in all states.
ObamaCare Breast Cancer Genetic Counseling and Testing
For women who are eligible under U.S. Preventive Services Task Force guidelines will receive, for a $0 copay, in-depth genetic counseling to assess the risk of carrying a breast cancer mutation, as well as for high-risk persons testing will be covered when ordered by a physician.
ObamaCare CA Transgender Services Will be Covered
In California all job-based plans must cover cost-sharing for transgender services such as:
Cost-sharing reassignment surgery
Mastectomy with chest reconstruction
Mental Health
Hormone therapy
Seniors $0 Preventive Care
First off it's important to note that seniors do not need to do anything in regards to the Affordable Care Act -seniors will still be enrolled with Medicare. The new benefits available to Medicare recipients is the ACA offers $0 preventive care for seniors, such as wellness visits, mammograms, and colonoscopies.
For further questions about how this will affect your coverage call 800-930-7956 or contact Medicoverage.