Our #1 question by far is...
HOW DOES THE DEDUCTIBLE WORK?
It's so popular that it gets its very own page!
For all other FAQs, roll over the questions below to get the 411 on Tonik:
Is Tonik available in all states?
Is there an age limit to Tonik?
How long does the TONIK application take?
Will I pay more for my TONIK plan if I use an Anthem Blue Cross and Blue Shield Authorized Agent?
What are the three TONIK plans and how are they different?
Don't most health plans cover dental benefits?
Can I get medical prescription benefits with TONIK?
Can I see the doctor with these new plans from Anthem Blue Cross and Blue Shield?
What are the drawbacks with TONIK?
Am I covered if I'm out of the state or out of the country?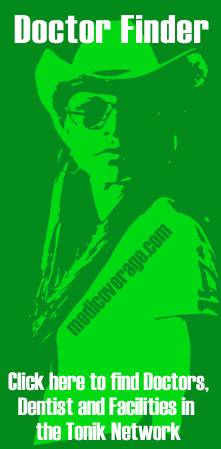 HOW TO USE THE ANTHEM BLUE CROSS & BLUE SHIELD TONIK DOCTOR FINDER
First click on the Doctor Finder Link

Then select your state

Then select PPO for Medical or Tonik Dental for dental

Then follow the rest of the prompts to search for doctors by zip code or by last name